18 Yummy Kid Friendly Drinks For The 4th of July
Body First
If you've got a bunch of people to entertain including kids this July 4th, you can really impress them by making some refreshing drinks for all ages. Keep your guests cool in the summer heat by making one of these delicious drinks.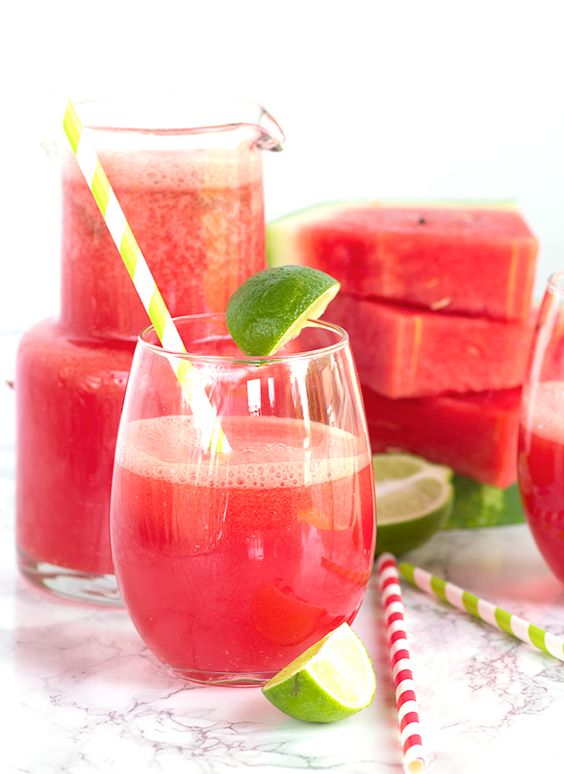 Watermelon is a great fruit to enjoy over the summer. Make a sweet and chilly drink from it with this recipe from Cookie Dough and Oven Mitt.
2. Red, White, and Blueberry Milkshakes
This milkshake from A Beautiful Mess is super easy to make and made special with blueberry flavored whipped cream.
3. Rainier Cherry Limeade Slushies
Sweet and tart rainier cherries are the perfect addition to these slushies from Cooking and Beer.
4. Sun Tea
Sun tea takes a simple beverage and turns it into an outdoor activity. Learn how to make it at The Pioneer Woman.
Take your lemonade to the next level with this delicious and chilly Brazilian lemonade from Mel's Kitchen Cafe.
Make your own cream soda with this recipe from Chocolate Moosey for a classic American flavor.
Kids will definitely be impressed with this patriotic punch from Mom Endeavors, but it's actually pretty easy to make.
This drink from Mel's Kitchen Cafe is as fun to drink as it is delicious!
9. Mint Lemonade Peach Iced Tea
Lemonade and Iced tea are both great drinks to drink in the summer. This recipe from Salty Canary combines them with peach and mint.
10. Blueberry Cream Soda Floats
Bring ice cream floats to the next level with this recipe from Chocolate Moosey that adds delicious blueberry cream.
11. Red, White, and Blue Mocktail
Adding fresh fruit to this mocktail from The Merry Thought is a great way to make it patriotic.
Apple pies are classic American treats. Turn them into a cool refreshing drink with this recipe from Real House Moms.
You can't go wrong with strawberry lemonade, and this recipe from Recipe Girl is an excellent way to make it.
Bring together two delicious fruits into this chilly drink from Brown Eyed Baker.
15. Patriotic Italian Cream Sodas
These Italian creme sodas from Butter With a Side of Bread are creamy, sweet, and super patriotic.
Lemonade gets a delicious update with this recipe from Cooking and Beer that adds blackberries.
Root beer is a great American drink on it's own. Make it even better by making it yourself with this recipe from The Idea Room.
18. Copy Cat Sonic Slush with Pop Rocks
Sonic slush is delicious on its own. Make your own with the addition of pop rocks with this recipe from Pretty Providence.