A Brief History of Vampires
Body First
You already know about vampires, the blood sucking undead creatures of the night that have been symbols of Halloween for generations. You probably also know tons of people who have dressed as a vampire for Halloween in the past, one of the most recognizable costumes out there. Vampires are so ingrained in our culture that you don't have to have a very elaborate costume to be one for Halloween. Just some fake fangs and a dark outfit will do. But vampires aren't exclusive to modern times. Myths of vampire-like creatures have been found in almost every ancient culture throughout history, but they were once depicted as bloated, purple demonic creatures. So how did we get from that to the sexy, misunderstood, humanoid vampires often depicted in young adult novels?
Blood sucking creatures were a fear of many ancient cultures, but originally they were not undead people come back to life. The Mesopotamians, Ancient Greeks, Persians, Indians, and early Hebrews all told of blood sucking demons comparable to the devil. They were anything but sexy, often described as bloated and dark in color, barely resembling humans at all. These creatures were fangless and were not called vampires, but they are considered to be the oldest ancestors of modern vampires.
Eventually the idea that humans could be turned into vampires became widespread. Most cultures also agreed that vampires were undead creatures, come to life when corpses were not properly treated. Slavic and Chinese legends believed that animals jumping over a corpse could make it come back as a vampire. Other cultures believed it was caused by an untreated wound or the death of a person who was unholy in life. People began many rituals to keep demons from finding and inhabiting a body such as burying it upside down or placing objects in or near the grave to distract or confuse wandering spirits. The idea that people were turned into vampires by some contact with a vampire didn't come until later.
Though these creatures were common around the world it is the European version of the 17th and 18th century that became the basis for the popular modern vampire. At this time Europeans were terrified of undead creatures and vampire hysteria began. When livestock or humans began dying without explanation, often due to an illness such as the plague, vampires were blamed. These vampires would literally rise from the grave at night and return to the grave by sunrise, though at this time people did not believe vampires were hurt by sunlight, they just chose to hunt at night. In order to stop vampire attacks it was common for villagers to dig up graves of the recently deceased. They would determine that the person had become a vampire by the lack of decomposition of the body, which unbeknownst to them happens more slowly naturally when the weather is cool. They would also look for bloody mouths; plump, well fed looking bodies; and teeth that appeared to have grown as evidence that the body had recently been feeding on blood. However, these are all common side effects of early decomposition, so they were finding many corpses that met the description. They would then stake the body through the heart, usually using stakes made of Aspen, which was believed to be the wood used for Christ's cross.
Vampires at this time were observed through a religious lens, believed to be corpses taken over by demons to do the devil's work. This led to many of the vampire traits still observed today. For instance, vampires could be kept away using crucifixes or holy water because possession of these items gave you God's protection. Mirrors did not reflect vampires because they have no soul, and mirrors were often thought of as windows to the soul. Garlic did not have a religious property, but it was also used to ward off vampires at this time because it was then used as a powerful medicine to prevent diseases, so people believed it may help prevent contact with demonic spirits as well.
By the 1800s much of the mania and fear over vampires had died down in Europe, but the fascination had not. It was during this time that vampires made the transition from myth to fiction and began appearing in literature. The first of these stories was a short story by Dr. John William Polidori called "The Vampyre", which was published in 1819, nearly 80 years before Dracula. The vampire from this story, Lord Ruthven was the first depiction of an attractive and aristocratic vampire who seduced his female victims. Another important literary vampire was Varney the Vampire, who appeared in a series of stories published in weekly pamphlets called penny dreadfuls in the UK between 1845 and 1847 by James Malcolm Rymer and Thomas Peckett Prest. Varney was the first vampire in fiction to be depicted with fangs who bit his victims on their necks and possessed supernatural strength and hypnotic powers. He was often portrayed as a relatable victim of his circumstances. Carmilla, a book written by Joseph Sheridan Le Fanu in 1871 was another important vampire story about a female vampire who seduced women. This story depicted a vampire who changed forms and slept in a coffin years before Dracula.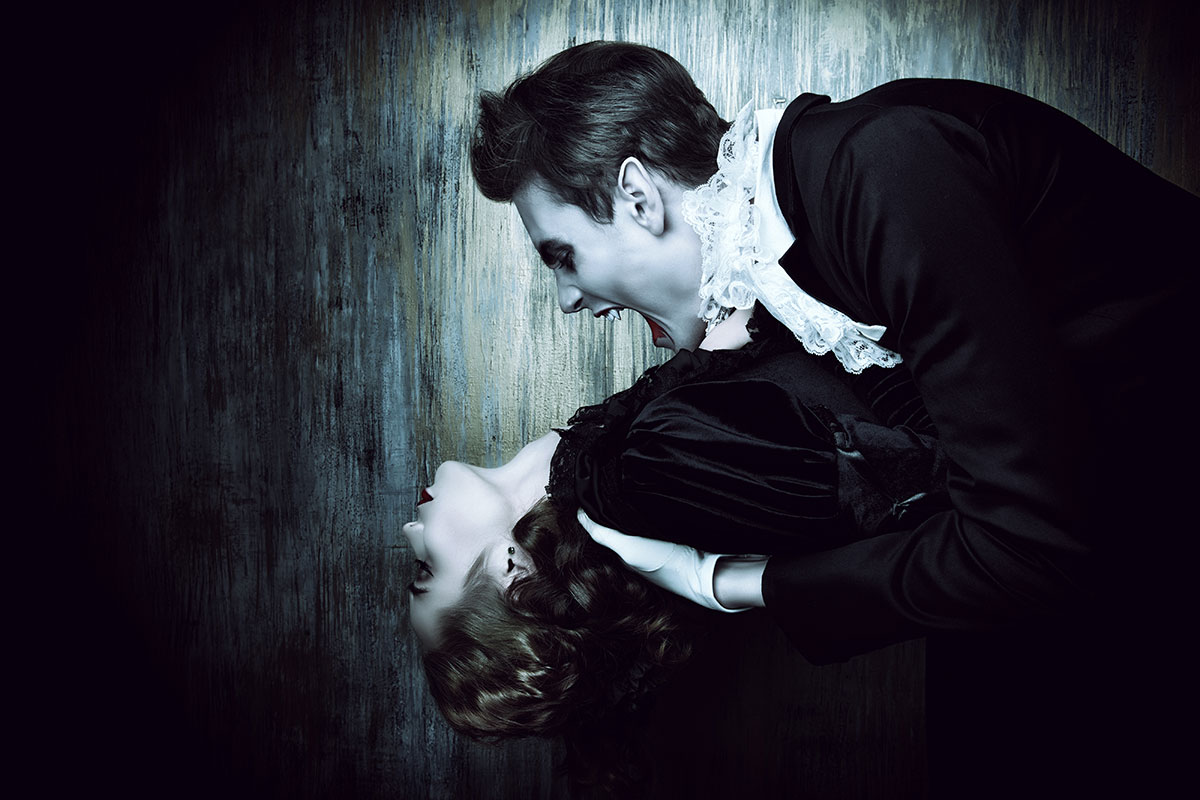 These were just a few of the many stories that inspired Bram Stoker as he wrote Dracula, who would become the most famous and influential vampire of all time. The modern image of vampires is almost completely based on Dracula. The character was based on Prince Vlad III the Impaler of Wallachia, who was famously cruel and blood-thirsty, but had never previously been connected with vampirism. He is a tall, attractive man who wears dark clothes and has eyes that flame red when he's angry. He is the first vampire to transform into a bat and become weaker in the sun (though the sun is not fatal or harmful to him). The popularity of this book made Stoker's version of the vampire the worldwide standard. Early stage and film adaptions of the book have also determined the look that is still associated with vampires today. The cloak often included in vampire Halloween costumes first appeared as a stage prop designed to hide a trap door in the stage through witch actors playing Dracula would disappear. 
This was the image of vampires that predominated the public perception for almost a century until the 1960s and 70s when book series' like the Barnabas Collins series by Marilyn Ross and the Vampire Chronicles by Anne Rice introduced a trend towards vampires as tragic heroes instead of unholy evil beings. This is an image that has continued on into the modern young adult paranormal romance trend of the 21st century, with series' like Twilight and The Vampire Diaries. Now-a-days vampires don't have to be evil, coffin sleeping beings who melt in the sun and fear garlic. Every story depicts its vampires differently.