Spring Never Leaves: Celebrating Chinese New Year in Guangzhou
Body First
Imagine you are strolling down streets illuminated by more than 1,000 huge and colorful lanterns in Chinatown, joyfully immersed in celebration of the Chinese Lunar New Year. You might be curious about the ancient Chinese myths behind these extremely thin, transparent paper-made containers with exotic animals and plants patterns. Although thousands of the thin flames are hovering over your head, you are freezing cold and wondering why every New Year's evening comes with snow, freezing air, and long nights.
What options do you have to enjoy this "spring festival", which Chinese people have named for their traditional new year festival, when it is so cold?
How about celebrating in Guangzhou, China!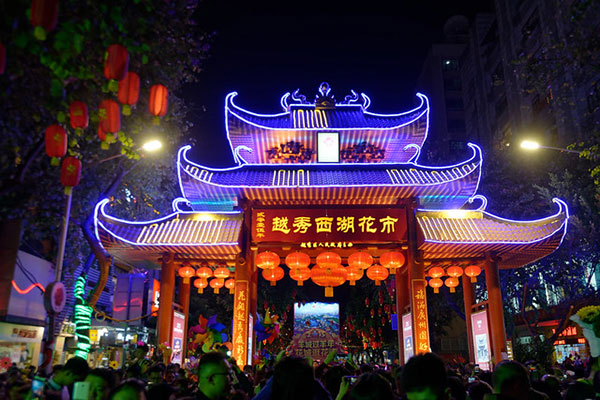 Guangzhou is one of southernmost cities in the mainland of China, where the weather is warm and humid year round, and flowers are perennial. The Cantonese people in Guangzhou, China celebrate somewhat differently than their northern friends. Unlike northern Chinese New Year featuring snowmen, skating, and dumplings, Cantonese New Year traditions are spring-like, colorful, delicious, and balmy.
When it comes to New Year's in Guangzhou, a house decorated with fresh flowers is everything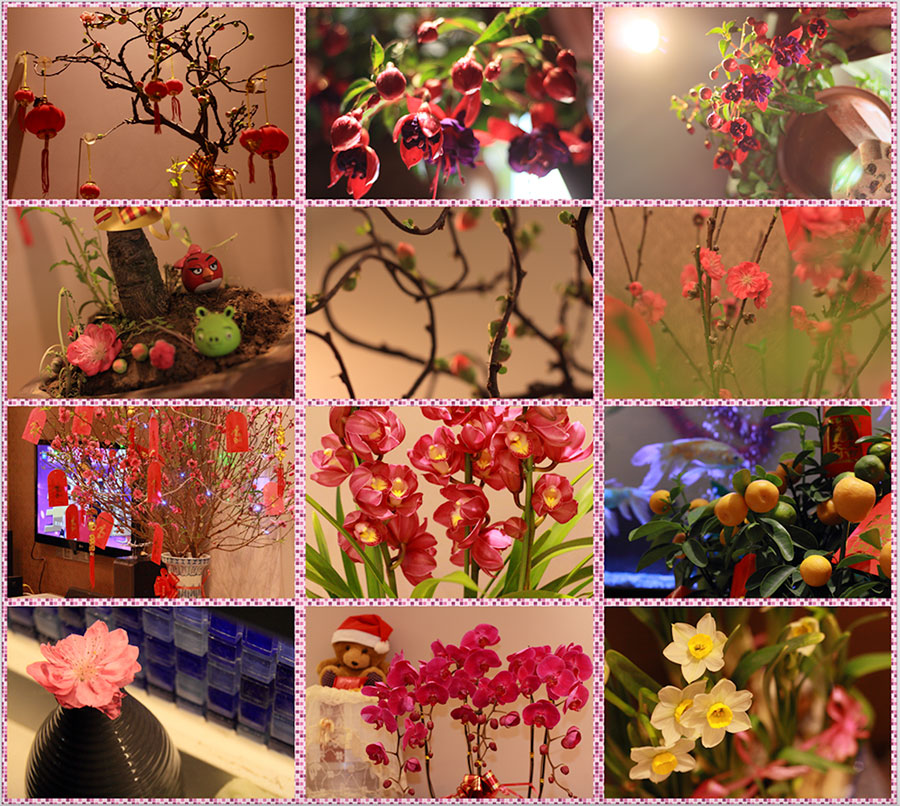 The history of the flower market is traced back four hundred years to Ming Dynasty. The earliest flower market nestled outside of the old town area was only for flower trade. By the 1960s, the flower market, a site for not only shopping flowers, but also hand-made artwork and snacks for New Year's celebrations, opened during the lantern Festival dated January 15th on the lunar calendar. When the market closes, flower vendors smash all the leftover flowers, letting them rot with dirt as the last rite of the New Year's celebration. This "brutal" tradition prevailed for more than one hundred years, until the year 2000. Then, the millennials' generation launched a "Flower Protection" movement, in opposition to starting the new year with "a massive flower slaughter", which convinced flower vendors to donate unsold flowers to nursing homes and orphanages.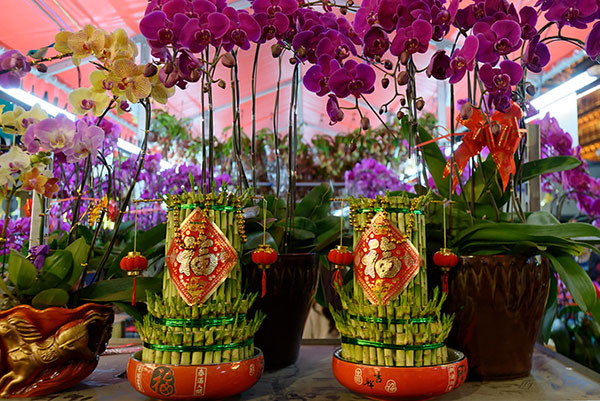 The flower market is a big business in Guangzhou during the New Year's holidays. About 284 acres are devoted to kumquats, peach blossoms, narcissuses, roses, phalaenopses, and jasmines in District Yuexiu at the heart of old town area. Cantonese people are a little bit obsessed with the names of flowers. The Cantonese pronunciation of kumquats is quite identical to "ji" which means "lucky" in English. According to Chinese flower language, the pink color of peach blossoms will bring unpredictable romantic connection to its young owners. And the white color and slim, delicate stems of narcissuses embodies purity and nobility.
Traveling through flower-filled displays, there is a sense that the whole city was pleasurably soaked in tons of petals and smiles. Cantonese people are well-known for their perseverance, optimism, and grounded lifestyle in China. I believe this is because they are fortunate to have a nature-connected start to each new year. A famous Cantonese saying is, "Being happy is the most important duty to be a human being," which undoubtedly proves that people can't be more content in the city of spring.
Shopping in the flower market is not only focused on flowers. For the sake of warmth in the winter, Cantonese are excited to celebrate the spring festival outdoors. Cantonese opera stages spread along streets to attract pedestrians and customers to stay longer in the flower market. When streetlights are shinning, I think of having a dinner in a time-honored Cantonese dim sum restaurant. Unlike a big Beijing family making dumplings on New Year's Eve, Cantonese people live in countless dim sum restaurants. However, cute and yummy dim sum desserts are given over to big dishes on New Year's Eve.
Chicken plays an unshakable role on the dinner table and a Chicken shortage is a nightmare.
"Forgot the chicken for the celebration" means doomful fortune in Cantonese. The most popular Cantonese-style chicken dish, called "boiled steamed chicken", is poached in fragrant soup stock, served cold. Cantonese food is featured with its ingredient's original flavor, which is healthier and more efficient to prepare.
So, join me in celebrating the annual Cantonese New Year festivities. Attend a local flower market and find the best chicken dish. With an eye on springtime, you'll be sure to enjoy a fresh new start to the New Year!