Diwali also known as the festival of lights is the biggest festival in India. People celebrate Diwali by decorating their houses and set off firecrackers. Diwali is a festival of Colors, lights, fireworks, and delicious food.
Rule
The new moon night of the month of Kartik on the Hindu calendar
Diwali or Deepavali is the biggest five-day Indian festival, celebrated by millions of Hindus, Sikh, and Jains across the world.
Diwali is the biggest festival in India and is also known as festival of light which celebrates new beginnings and triumph of good over evil. Millions of people decorate their houses with diyas, candles, light strings, flowers, Rangoli, etc which makes India a delight to view even from the satellite. Diyas lights the houses, Fireworks illuminate the skies, Rangoli puts a delight for the guests, sweets makes bonds stronger, this is where people stand together and celebrates the goodness in the world.
How Locals in India Celebrate ​​Diwali
Diwali is considered to be the most awaited festival for all the Hindus in India. Around 1 billion population across the world celebrates the occasion of the festival of lights across the world. As stated above, Diwali is a five-day-long celebration where each day has its own beliefs and traditions.
The celebrations start with Dhanteras where Indians clean their tools, equipment, decorate their houses and start preparing for Diwali. People also go out and buy clothes, sweets, flowers, etc. There is a huge sale all across India and retailers have huge business at this time. People buy jewelry and utensils on this day as it is believed that purchasing any kind of metal will ward off evil and bring prosperity.
The second day is also used for the preparations as people make Rangolis (art pattern made by color powders) which are decorated in front of the entrance door to welcome their guests on the occasion of Diwali. People also do puja at their own homes and in temples as well. People also go out and purchase crackers, diyas, a new sculpture of God, flowers to decorate their house, gifts, clothes, etc. The third day of Diwali is also considered to be Choti Diwali. In the evening, people start a small celebration of Diwali by lighting up their house with the help of Divas, led light strings, light lamps, etc. People after offering prayers to god, go down on the streets and burn crackers to celebrate the festival of lights.
The third day of Diwali is what people wait for the whole year and is the most important day where families and friends come together to celebrate the biggest festival of the year. Typically families prepare a variety of traditional Indian sweets such as Ladoo, Jalebi, Gulab Jamun, Barfi, etc. People exchange gifts with each other by visiting their relatives, friends and close one's homes. Gifts can be of any kind and price. After welcoming guests and going out to exchange gifts, people in the evening light up diyas, candles, small oil lamps, light strings, etc that last for the whole night long. People do puja at their own home to keep evil spirits out of their home and worship goddess Saraswati to bring wealth and prosperity for them. After doing puja, people go out onto the streets and burn fireworks and crackers. There are a vast variety of crackers and fireworks that are available in the market days before the Diwali for both adults and as well as kids. People also do gamble the whole night long.
On the fourth day, Govardhan Pooja is performed while on the last day the festival ends with Bhai Dooj. Bhai Dooj marks the celebration of sister love for her brother where sisters give their brothers gifts and do puja by putting a red dot on the forehead of their brother.
Advice from the Locals in India
Out of all the festivals in India, it is to be said that visitors should stay with one local North Indian family to celebrate the festival of lights. There is no better experience than to follow all the rituals, prayers, traditions while staying with a North Indian Hindu family. Therefore, it is advised that visitors should avoid staying in hotels or resorts, rather than stay like a local during this festival. You can also visit Varanasi and watch an amazing aarti and let off Fireworks by the river Ganga. Jaipur in Rajasthan is also considered to be an amazing place to be as markets are completely lit up which shows the absolute visual delight. Other places to visit during Diwali at Amritsar, Goa, Kolkata, and Mysore.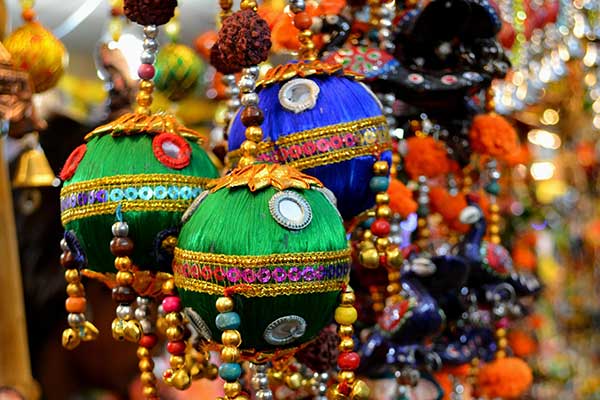 Diwali is considered to be the largest shopping period in India where people shop mainly for new clothes, gifts, and gold. Since the festival celebrates Lakshmi, the Goddess of wealth and prosperity, any investment or spending is considered to be auspicious. Last year it was estimated that Indians spent $3.9 Billion on the 5 day festival of Diwali.
There are many Diwali Melas as well across the nation especially in big cities such as Mumbai and Delhi. People visit this mela to witness dance, music, games, different varieties of food, decorations, etc. It is a good way to witness the magic of the festival of lights with thousands to people wearing traditional dresses and clothes. It is an unforgettable experience.
Tips from Locals
Diwali creates a lot of air and noise pollution around the cities due to fireworks and crackers. Diyas and fireworks are everywhere so make sure your clothes do not catch fire. If your ears are sensitive, make sure you carry some earplugs as some firecrackers are very loud and sound more like expositions. There is a big problem or air pollution during Diwali, so make sure if you have any breathing problems avoid going out on the streets. Don't keep your face or hands too close when lighting firecrackers and rush to the safe area as soon as you lit it. Children should be supervised. Also, recently the government has taken some actions to prevent air pollution by banning the sale of fireworks and crackers. Make sure that if you want to burn crackers, it is legal in that area to do so.
Make sure to book all the tickets in advance as Indians from all over the world travel to India to celebrate Diwali with their friends and families. Train tickets, hotel bookings and guides become harder and more expensive to book as well.
Overall Feeling of Diwali in India
Imagine walking down the streets at night and all you can see are lights everywhere. Almost every house slighted by the most beautiful light strings and candles. When you look up in the sky, all you can see is beautiful fireworks after every 10 seconds. Imagine people offering you delicious sweets and gifts as you meet them. Imagine millions of people praying to God to bring prosperity in their lives. These are just a few words which are not enough to describe the importance of this Festival. All you can see is people with happy faces distributing happiness in the shape of gifts and sweets to each other by celebrating the victory of good over evil
Diwali is a lifetime experience that is considered to be the best time to visit India. Diwali gives the flavor of how deep and glorious Indian customs and cultures are. Indian markets, temples, few government buildings are beautifully decorated with lights and flowers. The overall feeling of Diwali gives the monumental feeling of happiness and joy.
Observance Type
Public
Gazetted
Religious/Beliefs